The New Home rating system is for designing and building brand new homes. It's usually used by architects, builders and developers who work with independent third-party GreenPoint Raters to give home buyers proof of a home's green features. Homebuyers can differentiate between green homes and conventional homes by looking for homes that have earned the New Home label.
Minimum Requirements: 50 points, an energy performance target of 15 percent above the current California energy code, and 50 percent construction waste diversion.
Some common measures for single family homes include: High-efficacy lighting, EnergyStar® appliances, FSC-Certified lumber, insulation with 75% recycled content, water efficient fixtures, solar electric panels, solar water heaters, and low or zero emitting interior paints, varnishes, cabinetry and carpeting.
View all GreenPoint Rated checklists for more information.
Why Get Your Home GreenPoint Rated?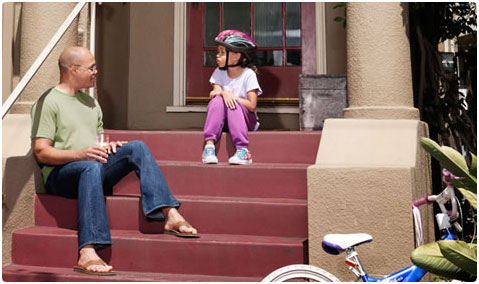 The GreenPoint Rated label is the mark of quality for green homes. It proves that your home was built or remodeled to trusted environmental standards and evaluated by a certified GreenPoint Rater.
Here's why getting your home GreenPoint Rated is a great idea:
Proof:
You'll get certified proof of your green home and the assurance that your home is truly healthier, more energy efficient and comfortable.
Save:
You'll get quantified savings for energy, water, waste, and greenhouse gas emissions.
Increase the home value:
Studies show that if you're selling your home, you can get up to 9% more on the sales price with a green label like GreenPoint Rated. They usually also sell faster. Based on the average California home price of $400,000, that's $34,800 more in your pocket!
How Does It Work?
These simple steps will help make the process of getting GreenPoint Rated go as smoothly as possible.
1) Take the "Is Your Home GreenPoint Ready" survey.
Take our simple survey to help you assess if your home could qualify for the label. It only takes a few minutes – take the survey online or download the print survey now!
If you're working with a real estate agent, ask them if they are familiar with GreenPoint Rated and share the survey results with them. They may be able to refer you to a GreenPoint Rater and help to facilitate the process.
2) Call a GreenPoint Rater.
Ask about the GreenPoint Rater's list of credentials. You may want to choose a Rater who is also certified by the Building Performance Institute (BPI) so that you can have just one professional perform all of the required tests.
Send the Rater your completed survey and review it with them by phone. Your Rater will ask you a few more questions to determine if your home qualifies for the label, and can suggest any additional green home improvements that may be necessary.
If it looks like your home may qualify, schedule a walkthrough with the Rater.
3) Prepare for your GreenPoint Rating.
Locate and provide clear access to your attic, crawlspace, and any heat registers that may be covered by furniture.
Gather invoices, product information, and other documentation on your green products for your Rater to review.
If you have a fireplace, remove all ashes.
Download and complete this "Get Ready" form on your home to share with your Rater. Your Rater may ask you to send this information prior to the walkthrough date.
4) Get Rated.
During this 2–5 hour rating process, your Rater will gather documentation, verify your home's green features, and conduct an Energy and HVAC Survey and Combustion Appliance Safety Test. The Rater may ask that you refrain from opening doors and windows or turning on the water for a portion of the walkthrough.
Your Rater will then submit your paperwork to the GreenPoint Rated Program for processing. Once your rating has been verified you will receive your GreenPoint Rated certificate within two weeks.
5) Showcase Your GreenPoint Rated Home.
Order GreenPoint Rated signs and plaques designed to showcase your green homes and features – offering proof and recognition of better quality homes.
Place these signs and plaques on your yard or inside your home to attract more buyers or show your pride in green home ownership.